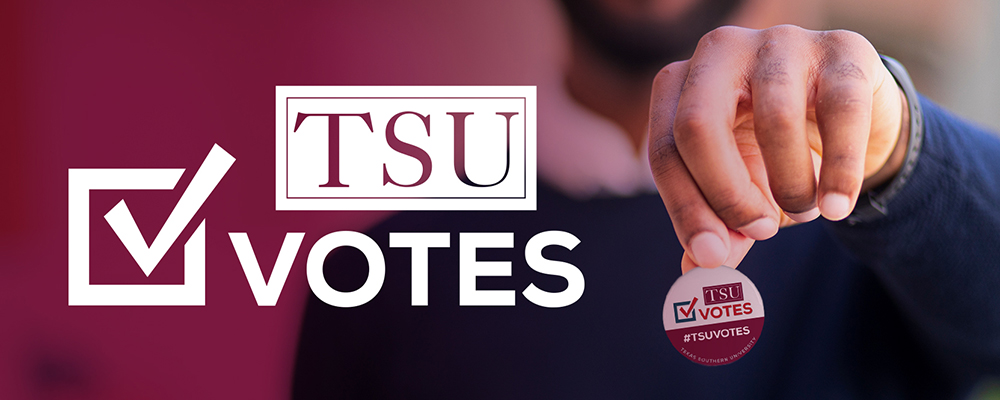 As the November elections near, Texas Southern University wants students and our community to be informed and have access to resources needed for a successful voting experience.
Early Voting Begins October 13th
Texas Southern University will serve as an Early Voting polling location in its financial aid building located in the West garage at 4559 Ennis Street Houston, TX 77004. Click here for map.
Voting Dates
In Texas, you must be registered to vote by Oct. 5 (30 days prior to the election).
Check to see if you are registered to vote at  https://www.vote411.org
You can vote early from Oct. 13-30.
The last day to accept ballot by mail applications (not postmarked, but in elections, office is Friday, October 23, 2020). 
November 3, 2020 is the Uniform Election date.
Who Can Vote
To register in Texas you must:
be a citizen of the United States
be a resident of the county in which the application for registration is made
be at least 17 years and 10 months old (you must be 18 to vote)
not be finally convicted of a felony, or if a convicted felon, you must have fully discharged your
punishment, including any incarceration, parole, supervision, period of probation or be pardoned
have not been declared mentally incompetent by final judgment of a court of law
*find more information on voting rights restoration here.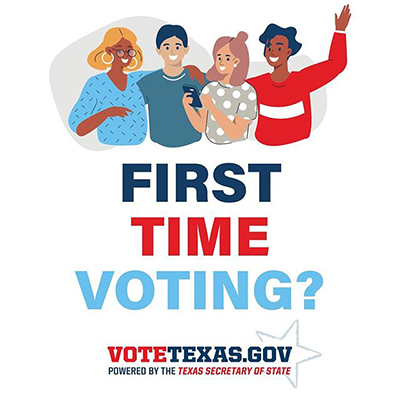 Click image for more information
Voting By Mail
To be eligible to vote by mail, you must be 65 years or older, have a disability or an illness, be confined in jail, or out of the county in which you're registered on Election Day and during the entire early voting period. You'll need to deliver a completed application for ballot by mail to your  county elections office. They can be dropped off in person before the start of early voting on Oct. 13, or local election officials must receive mailed applications by Oct. 23. You can  print out an application, request one from the Secretary of State's office or contact your local elections office.
Voting in Person
We've teamed up with our friends at Lyft, HBCU Heroes, and the Social Change Fund to make sure you're prepared. Take a Lyft ride to the polls with [HBCUVOTE2020]*. Through our partnership with Lyft, HBCU Heroes, and Social Change Fund, we're offering $10 off your ride to the polls on Election Day. There's a limited quantity available and they're first-come, first-serve so don't delay. Enter the code in the "Promos" section of the Lyft app to claim yours now.
Key Election Dates
table

| Date/News | Title |
| --- | --- |
| October 5, 2020 | Voter Registration deadline |
| October 13, 2020 | Early Voting Begins |
| October 23, 2020 | Absentee ballot deadlines |
| October 30, 2020 | Early Voting Ends |
| November 3, 2020 | Election Day |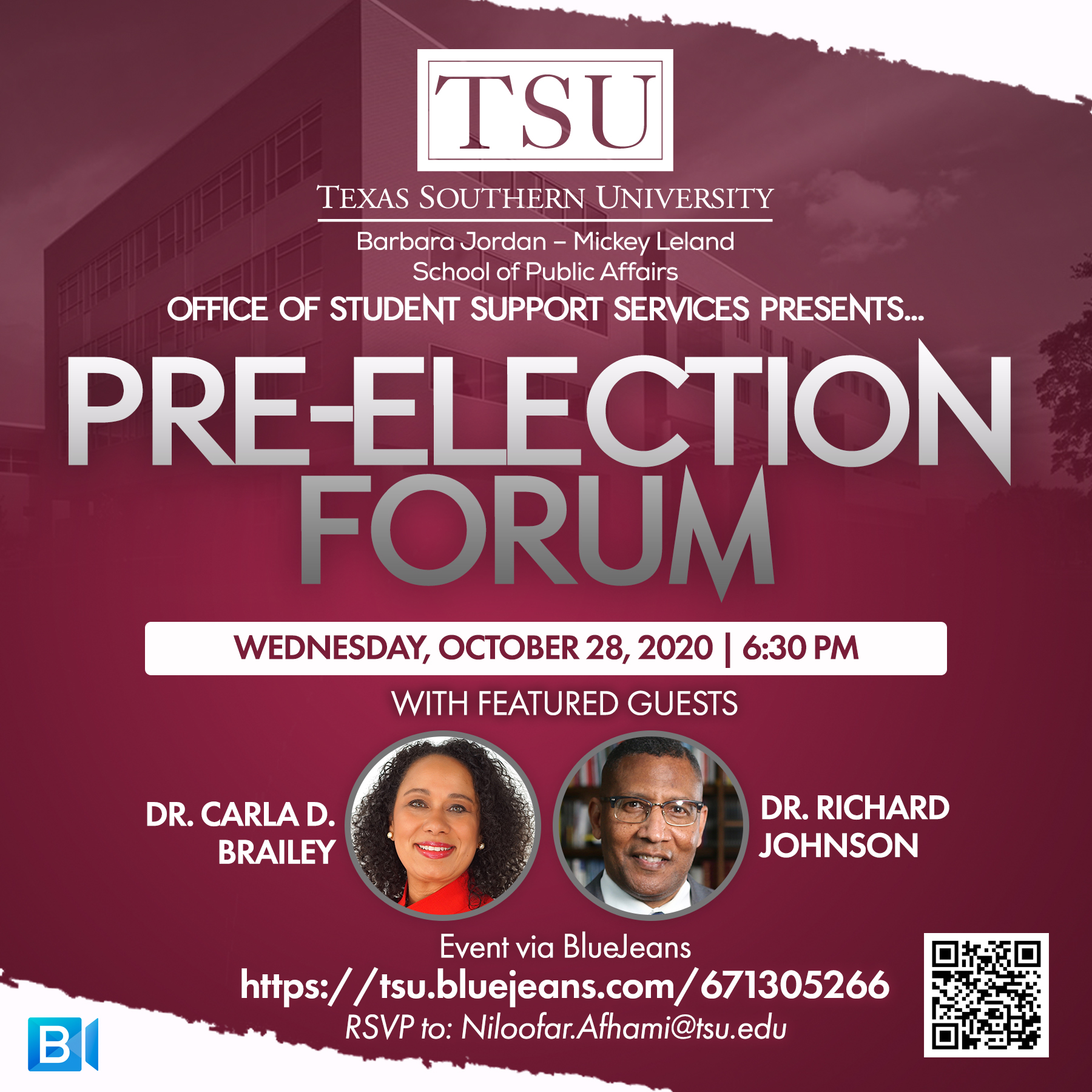 Texas Southern University Voting Events
HBCU Voter Drive
Texas Southern University is a participant in the HBCU Heroes Adopt-An-HBCU Good trouble Voter Drive. Spearheaded by celebrities including TSU alumni Michael Strahan, the launch of the Adopt-An-HBCU Good Trouble Voter Drive celebrates the inaugural National Black Voter Registration Day held on September 18th. The six-week social media campaign features a line-up of celebrity Historically Black Colleges and Universities (HBCU) alumni and supporters educating HBCU students about their voting right.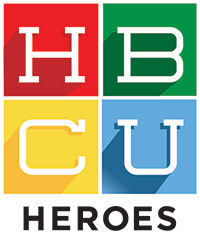 Student Services and Enrollment Management
The Division of Student Services and Enrollment Management is hosting events that support student's involvement in register to vote and getting the polls to vote.
Voter Registration – September 28, 2020 – October 2, 2020 11 a.m – 2 p.m.
Voter awareness virtual discussion Tuesday, September 29, 2020. 5 p.m. – 6 p.m. (Zoom)
Please contact Justin Lee for the zoom information ( justin.lee@tsu.edu) Zoom Meeting Link
Drive-Thru Voter Registration Event - Sat. Oct. 3, 2020 12 p.m. - 2 p.m.
Location:3347 Blodgett St. Houston, TX 77004 Learn More .
Early Voting giveaway - Monday, October 12, 2020.
Frist Day of Voting (March to the Polls) - Tuesday, October 13, 2020.
Get out to Vote Virtual Rally - Wednesday, October 28, 2020
Let's Vote Tigers Virtual Voter Party with Live DJ & Updates - November 3, 2020 (Giveaway)
BJMLSPA Pre-Election Forum - October 28, 2020 6:30 p.m.
The Barbara Jordan - Mickey Leland School of Public Affairs' Office of Student Support Services to host a Pre-Election Forum with featured guests Dr. Carla D. Brailey and Dr. Richard Johnson. The guests will discuss the implications of the 2020 election and the issues that concern the community, including: healthcare, school reform, criminal justice reform, the recent supreme court justice nomination, and policy issues that affect Black America.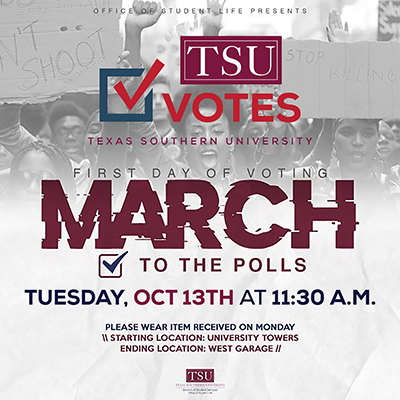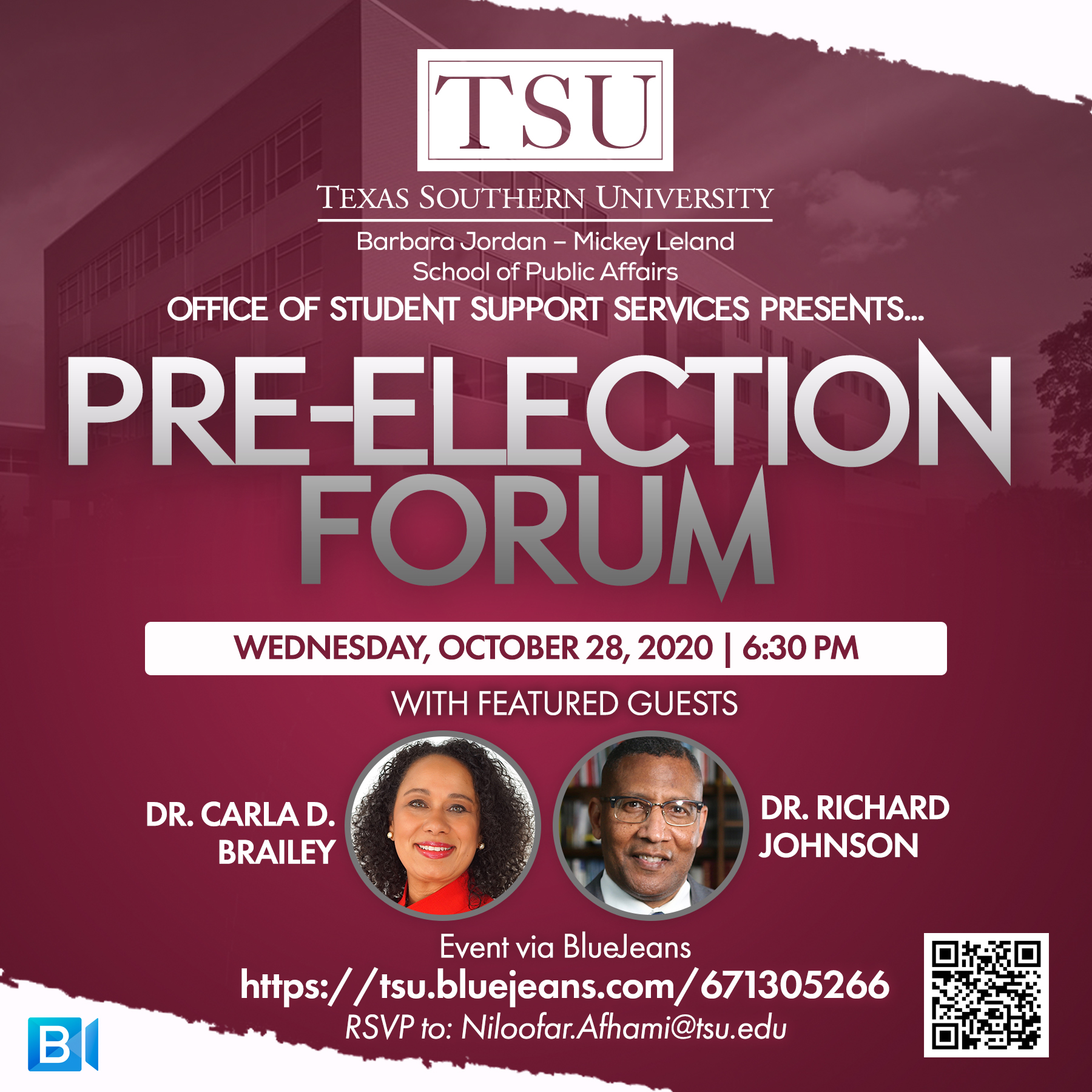 Film Screening and Discussion: All In: The Fight for Democracy - Friday November 6, 2020 6:00 PM

TSU Department of History, Geography, & General Studies presents Series I: The Chat Historians Talking History
view flyer

KTSU 90.9 FM
From 11 a.m. – 1 p.m. on Saturday, September 5, 2020, The Vibe, along with the National Association for the Advancement of Colored People (NAACP) Houston and the Houston Area Urban League (HAUL) Young Professionals, hosted The Movement Continues Drive-Thru Voter Registration and 2020 Census Drive on TSU's campus. Committed to pushing voter registration, the merger between KTSUs new Urban Alternative Station and the community partners was seamless. Each entity bringing its own brand of civic engagement, but collectively, focusing on pushing the underserved and underinformed towards the polls.
Other Events
Oct 6, 2020: Webinar: Who Else Is on the Ballot?
School Boards, County Commissioners, and Judges - how do these offices impact you and your neighbors? This webinar will discuss the responsibilities of down-ballot offices and how these elected officials impact the communities they serve. This webinar is free and open to the public. Register Here.
Oct. 16, 2020: Gavel Series Webinar:"Your Vote; Your Right" Register Here