The Honorable Aaliyah M. Fleming (Conroe, Texas)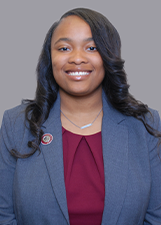 Student Regent Aaliyah M. Fleming was appointed to the Texas Southern University (TSU) Board of Regents by Texas Governor Greg Abbott with her term set to expire on May 31, 2022.
A native of Jackson, Tennessee, she migrated with her family to Conroe, Texas when she was very young. Ms. Fleming graduated from Conroe High School in 2017. While in high school, she briefly participated on the school's debate team. Her experience on the team allowed her to learn how to think critically, speak confidently and most importantly, the value of listening.
Regent Fleming joined the Tiger family in the fall of 2017. She is currently a senior pursuing a Bachelor of Arts degree in Political Science with a minor in History. Post-graduation, Regent Fleming plans to attend Thurgood Marshall School of Law and then to have a career in family law.
As a proud HBCU Student Regent, she plans to elevate the minds of her fellow students by making TSU a safe place that is concerned about student issues. Ms. Fleming wants to be the voice of the students that is heard. She wants to serve the community, her fellow classmates in addition to working alongside of student organizations in helping to establish productive programs with opportunities. Ms. Fleming attributes much of her desire to making a positive impact on her community to her adoptive mother, who also is her greatest teacher of 22 years.
Regent Fleming comes eagerly to the campus and says, "I am so excited to serve my school in the best way I know how and am enthusiastic to serve alongside the Board of Regents. Grateful for the opportunity to be able to help ensure that this great school of ours continues to be great."
Term: June 1, 2021 - May 31, 2022