Sustained Commitment and On-going Communication and Awareness
To ensure ongoing commitment to this effort, the University proposes to engage in an intense branding and marketing campaign. The goal is to increase faculty, staff, and student knowledge about, and participation in, the QEP based on their role. What we are asking faculty and staff to do within the QEP requires a level of investment. To this point, through incorporating their voices and concerns, we have acknowledged how critical they are to the success of our first-time freshmen. This campaign will promote ongoing communication and awareness about the QEP purpose and plan.
The branding and marketing campaign is an opportunity to start building a culture around the freshman student experience, educate staff about what we need from them, and increase interest in the QEP through ongoing opportunities for engagement. The campaign contains multiple components that will help to ingrain the QEP objectives with our various audiences.
QEP Graphical Elements
The QEP graphical elements serve as an opportunity to provide a visual brand for the effort. The graphic given below will serve as the main logo for the QEP.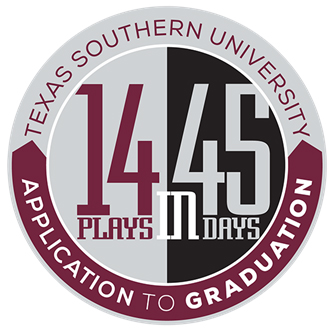 This graphic condenses the overall title of TSU's QEP to a memorable phrase "Application to Graduation," and emphasizes the 14 plays in 45 days. The upward-pointing arrows on each side of the circle denote the forward progress that these 14 plays will accomplish. This graphic will be displayed prominently on TSU's campus – on lightpoles, yard signs, banners, etc. – as well as promotional QEP items and giveaways to faculty, staff and students.
In addition to this general logo, each play will have an icon tailored specifically to that play. Each of the 14 plays, represented by a simple, elegant, graphical icon, is part of a concerted effort to ensure that our students are successful during the critical initial days of their connection with TSU. It is important that each play is not seen simply as an isolated consecutive numeric "ingredient" toward success.