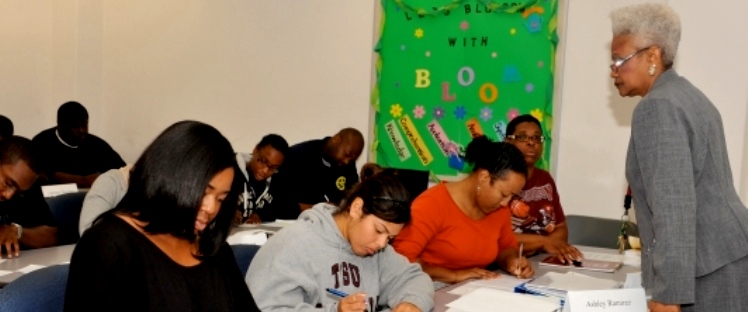 Mission
The mission of the Department of Curriculum and Instruction is to use rigorous research, innovative teaching, and engaged PreK-12 school partnerships to enhance the development of culturally responsive educators who will resolve 21st-century problems using the most advanced theoretical knowledge and pedagogical practices accessible. The Department's mission is consistent with the overall mission of the College of Education—to prepare caring, committed, competent, culturally responsive urban professionals who are equipped to provide effective service in schools, agencies, and other entities, utilizing research, collaboration, and application in seeking solutions to teaching, learning, social, physical and behavioral issues facing urban populations.
The EPP incorporates technology to improve teaching effectiveness, enhance instruction, and manage student and assessment data while engaging students in the application of technology to enhance their learning experiences. As part of their methods courses and field experiences, candidates are required to develop lesson and unit plans that provide strategies for using technology to enhance student learning. More specifically, the model lesson plan includes a resource section where candidates are required to identify the technology used in the lesson. During their clinical experience candidates are required to develop a unit or series of lessons that require identifying the technology that will be used. Lastly, candidates must successfully complete two educational technology classes (i.e., EDCI 210 and EDCI 340), as well as assignments in various content and pedagogy courses.
Upon the completion of these courses, candidates will be able to:
Create and incorporate digital tools and resources to promote student learning and creativity
Interact, collaborate, and publish with peers, experts, or others employing a variety of digital environments and media
Communicate information and ideas effectively to multiple audiences using a variety of media and formats
Demonstrate effective use of current emerging digital tools to locate, analyze, evaluate, and use information resources to support resources and learning
Evaluate and select information sources and digital tools based on the appropriateness to specific tasks
Promote and model digital etiquette and responsible social interaction related to the use of technology
Collect and analyze data to identify solutions and/or make informed decisions
Conduct an ongoing self-assessment of strengths and weaknesses in the knowledge and skills of technology applications
Programs Offered
The Department of Curriculum and Instruction offers initial teacher preparation programs that prepare graduates to be certified teachers and advanced educational degree programs that prepare graduates to be curriculum specialists, educational leaders, and consultants. The Department of Curriculum and Instruction offers a bachelor's degree in Interdisciplinary which prepares students for the initial teaching credential. The department also offers masters and doctoral degrees.
B.S. in Interdisciplinary Studies
Educator Preparation Program
M.Ed. in Curriculum & Instruction
Ed.D. in Curriculum & Instruction
Contact
Dr. Ingrid Haynes-Mays, Chair
Curriculum & Instruction
Tel: 713-313-7267
Fax: 713-313-4449