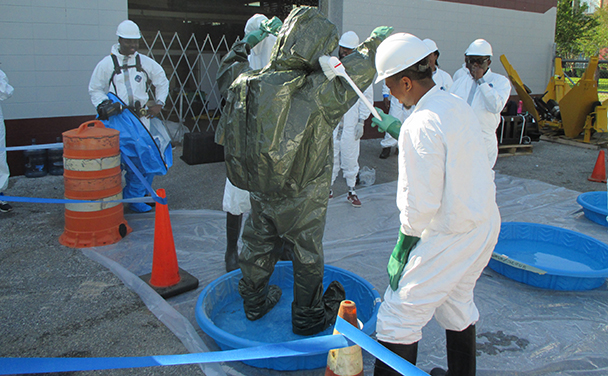 About Us
The Environmental Career Worker Training Program (ECWTP) is designed to train unemployed and/or underemployed individuals in the Houston area in the environmental services field. The training is free and provided at Texas Southern University and other selected sites.
The ECWTP is funded through the National Institute of Environmental Health Sciences. Since 2012, the program has been housed at the Barbara Jordan/Mickey Leland School of Public Affairs at Texas Southern University. The program here at TSU is part of the consortium which is led by the Deep South Center for Environmental Justice.
The ECWTP recruits unemployed/underemployed women and men from Houston to attend a twelve-week training program at Texas Southern University for career opportunities in the environmental or construction field. During the past four years, the program has trained over 106 women and men. The program has a 92-96% job placement rate.
Training Is Free
Training is offered in a 12-week classroom and hands-on type setting by dynamic instructors and trainers that are experts in their field. Training classes are held each January.
Type of Technical Training Offered
Asbestos and Lead abatement worker state certification
40 Hour - Basic construction skills with weatherization
40 Hour - Hazwoper certification
OSHA 10
Basic Plus & Confined Space (possible)
TWIC (possible)
24 Hour - Community Emergency Response Training
Potential Participants Must
Complete application (application found below)
Take and pass TABE (Test of Adult Basic Education)
Individual interview
Attend the orientation session
Successfully complete 6 weeks of Power Skills and 6 weeks of Technical Skills
After completing the program, students are fully certified and ready to begin work in the field
Job placement assistance is provided
Training Program Eligibility
Must be a Houston area resident
Must be at least 18 years of age
Must be un/underemployed
Must be drug-free
Must read on an 8th-grade reading level
Must speak English
Candidates can come from any ethnic background and be male or female
Criminal records are handled on a case by case basis
Application
It is essential that the entire application be fully completed before it is submitted. Please email your completed application to Bertina Carter at bertina.carter@tsu.edu or Paulette Lynch at paulette.lynch@tsu.edu.
Contact Us
Offices and classes held at:
Texas Southern University
3100 Cleburne St.
E.O. Bell Building B15
Houston, TX 77004
Other Resources