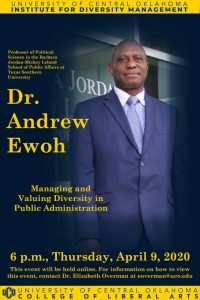 Dr. Andrew I .E. Ewoh is an Interim Associate Dean for Academic Affairs as well as a Professor of Political Science and Public Administration in the Barbara Jordan -Mickey Le-land School of Public Affairs at Texas Southern University. He is an accomplished scholar with an extensive , and Administrative experience.
He was once the Director of the Master of Public Administration Program and Professor of Public Administration, and the Co-Director of the MBA/MPA Dual Degree Program at Kennesaw State University in Georgia. Having collected enough experience and understanding in " Managing and Valuing Diversity in Public Administration" Dr. Andrew Ewoh has been invited to address the University of central Oklahoma institute for diversity managements on matters pertaining to this issue.
CONTACT DR ELIZABETH OVERMAN AT EOERMAN@UCO.EDU
for information on how to view this event.
Author: Bashir Kalyesubula