click to view original story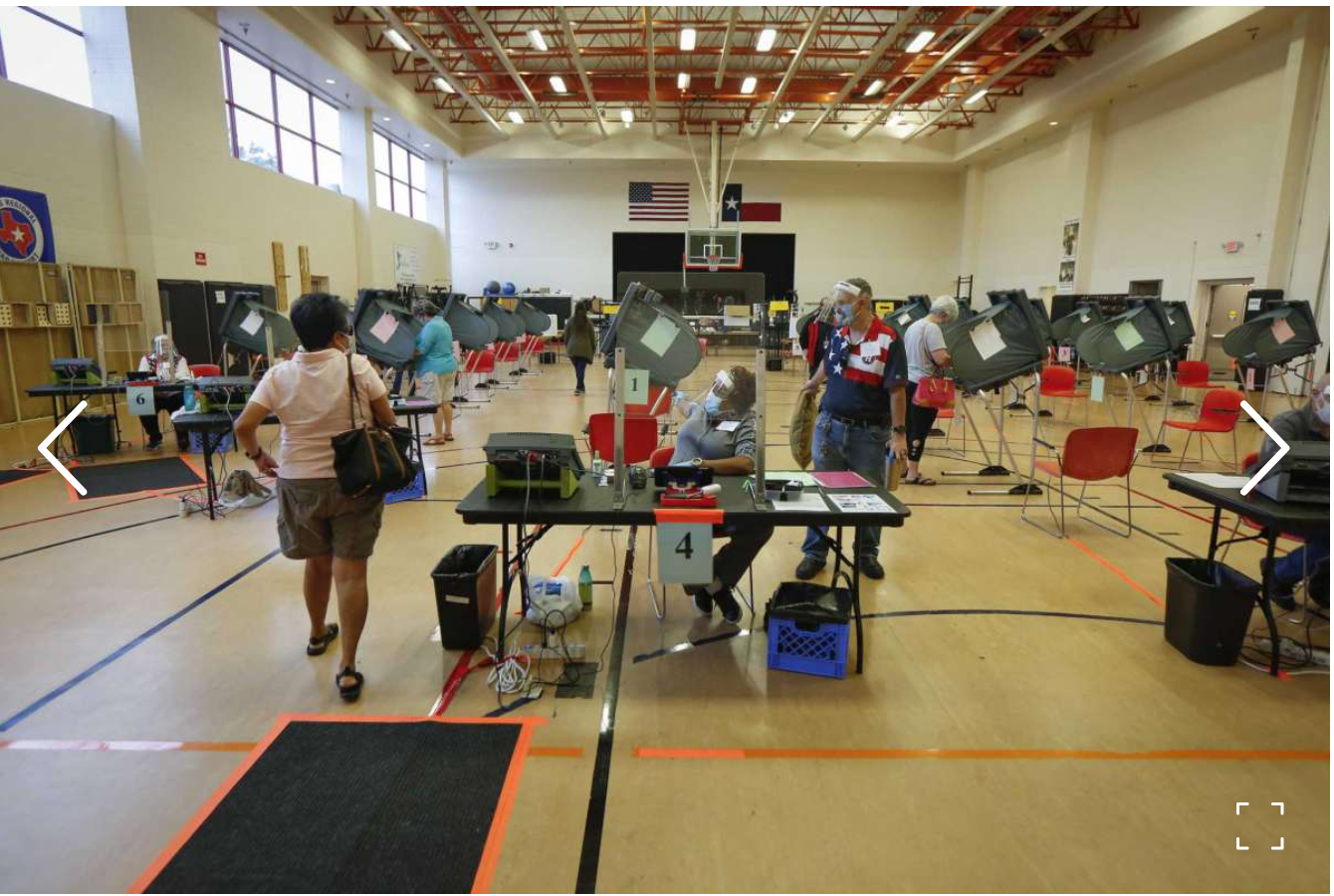 Early voting for the July primary runoffs at the Metropolitan Multi-Services Center, 1475 W Gray St., Monday, June 29, 2020, in Houston.
Harris County election officials are preparing for a record number of voters to cast their ballots before Election Day, a process that ramps up across Texas on Tuesday as early voting begins for the November general election.
County Clerk Chris Hollins, the elections administrator for the state's largest county, said he expects as many as 1.7 million Harris County voters to turn out, a total that would shatter the record 1.3 million votes from 2016. Political analysts and elections officials are projecting an unusually large share of the votes will come during the early voting period, which Gov. Greg Abbott extended by six days, and through the mail as voters look to avoid contracting COVID-19 at crowded Election Day polling sites.
"It's very likely that you're looking at close to about three-quarters of all the vote being in before Election Day, which is a dramatic turnaround from what we've had just a few years ago," said Jay Aiyer, an assistant county attorney working on elections at the Harris County Attorney's Office. "It's better to think of the election process as less about Election Day and Nov. 3, and really more about 'election weeks.'"
Hollins, anticipating the uptick, secured more than $17 million from commissioners court in August to extend early voting hours, open drive-thru voting sites and roughly triple the number of early voting locations from prior elections. To staff the expanded voting sites, Hollins has hired about 11,000 poll workers, twice as many as in 2016.
To reduce the spread of COVID-19, the clerk's office has spaced voting machines six feet apart at each location. Poll workers, all of whom are required to wear masks, will provide finger covers and sanitizing wipes, and will be divided by plexiglass from voters while checking them in. Each early voting site also will have hand sanitizer stations.
The clerk's office also received additional funds to handle the increase in mail ballots. Hollins had mailed out 235,000 ballots by this past weekend, his office announced, more than doubling the total from 2016. He had anticipated sending out roughly 10 times that amount to all 2.4 million registered voters in Harris County, but Texas Attorney General Ken Paxton stopped the effort through a court challenge.
Harris County election officials had received 22,000 completed mail ballots by the weekend, while another 13,250 voters had dropped off their ballots in person at NRG Arena through Friday.
Driving part of the expected turnout increase is the steady growth of Harris County's voter rolls. The county has added nearly 234,000 registered voters since 2016, far more than the 143,000 new residents added during the same span.
Polls consistently have shown few voters remain undecided in the presidential race between President Donald Trump and former vice president Joe Biden, the Democratic nominee. That only a small chunk of voters waiting until Election Day to make up their mind, voters — many of whom feel strongly one way or another about Trump — are unlikely to wait around, Aiyer said.
"I think we can anticipate quite a bit of pent-up desire to vote that manifests itself during early voting," he said.
Michael Adams, chair of the political science department at Texas Southern University, agreed with Aiyer's estimate that roughly three-quarters of votes could be cast before Election Day. He said there are many more competitive down-ballot races than usual this year, which could also drive some of the early turnout.
"There have been some very competitive races, in particular if you look at what's happening in Congressional District 22 and the state House races where the Democrats feel they have the opportunity to flip the House," Adams said, referring to a Republican-held district in south Harris County targeted by national Democrats. "Part of it is, I think these campaigns are better organized, in terms of voter education."
Hollins has warned voters are likely to see longer wait times on Election Day due to the lack of straight-ticket voting, which allowed voters to cast their ballots for every candidate from one party by pressing a single button. The clerk's office conducted a stopwatch test earlier this year and found it takes two minutes to cast a straight-ticket ballot, while selecting a candidate in each race takes about 15 minutes. In 2018, 76 percent of Harris County voters cast straight-ticket ballots.
Hollins on Monday encouraged people to vote before Election Day, noting those who are ineligible to vote by mail can do so "from the comfort and safety of your vehicle" at the drive-thru early voting locations.
"We know that voting by mail is the safest and most convenient way to vote, but for the thousands of Harris County residents that are not eligible, we've provided more opportunities to vote and stay safe than ever before in Texas history," Hollins said.
Generating high turnout during the early voting period could help reduce Election Day issues, Aiyer said. Even so, he said not to expect shorter lines on Nov. 3.
"You can have fewer people vote on Election Day, but it very likely will take longer to do so," Aiyer said. "And as a consequence, it may seem just as slow as always."
jasper.scherer@chron.com