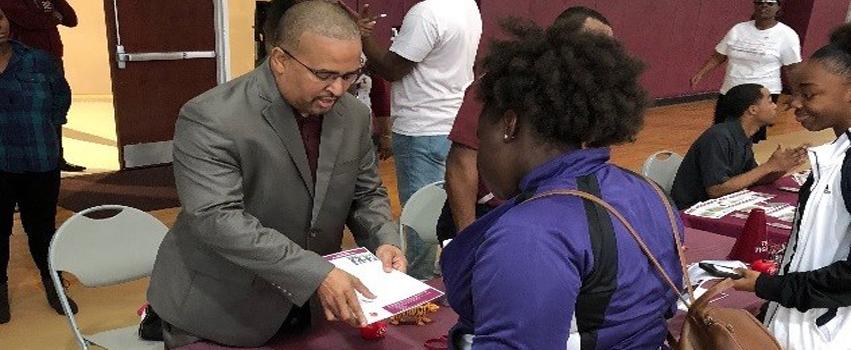 Educational Administration and Foundations Reaches Out To Middle and High School Students, Teachers, and Parents
Increasing the number of students is an integral part of any educational program and recruitment efforts cannot start soon enough. The sooner you can reach young, bright, impressionable minds, the better. Reaching students at an early age allows you to impress upon them the importance of an education.
On April 19, 2018 the Texas Southern University College of Education set-up tables in the lobby ready to meet and greet Middle School Day Students. This is designed to support the Office of Recruitment to promote literacy, higher education and fitness among youth. The day's events specifically focused on encouraging students to stay in school, complete their secondary education, and prepare to attend college, with hopes they become TSU Tigers.
Educational Administration and Foundations was also one of four departments on the front line at T.S.U. Tiger Day on February 23, 2018 providing literature to high school students on the various programs offered. This event was held in the T.S.U. Rec-Center. Dr. Dominic Thomas and Jeffery Lindsey served as the representatives for the Educational Administration recruitment table. Dr. Thomas and Mr. Lindsey did an outstanding job interacting with the students, and both were able to motivate some parents and high school teachers to consider applying for the masters and doctoral programs in Educational Administration.
Overall, both events were a huge success and Educational Administration and Foundations was excited to be a part of such an enlightening and productive experience.