INTERNSHIP
All SOC graduates prepare for the world of work by experiencing it through internships.
The School of Communication requires all students, including RTF majors to enroll and successfully complete a pre-internship class (COMM 330). Before enrolling in COMM 430 Internship course, students must complete all of the core major courses and most of the courses in their area of interest, and have the approval of their academic advisors.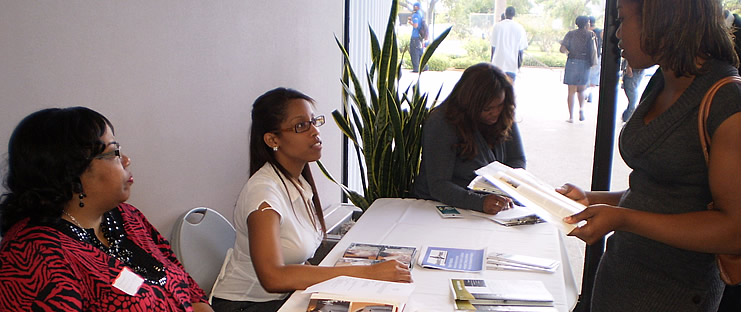 Goals of Internships
Communication internships are designed to benefit both students and employers. Students receive practical experience in a communication-related career, while employers benefit from their skills and assistance, and may evaluate first-hand possible future employees.
Registration for Internships
Students must apply to the Communication School's Student Service Coordinator, a semester in advance to obtain approval to pursue an internship. This process involves an application, a screening for GPA, academic standing, and registration. If accepted and the student has obtained an internship he/she must get approval of job and job description for internships not already approved. If the job is approved for Communication Internship credit (3 credits), students must enroll in COMM 430. An Agency Verification/Internship Agreement form must be completed before the beginning of the work program and before the student can get credit for the internship.
Student Eligibility and Expectations
Students must enroll in COMM 430 – Internship to receive academic credit (3) for the internship. Eligibility criteria include:
Students must have 75 hours (junior or senior) of undergraduate credit completed toward one's degree.
Students must have a minimum 2.3 GPA overall and 2.5 for major.
Students must have been enrolled at TSU for at least one semester prior to enrolling in an internship.
Transfer students must have completed a minimum of 12 hours Communication coursework at TSU prior to enrolling in an internship.
Students seeking internships at sites that are not already posted by the Communications Department will be asked to present for approval a job description obtained from the employer to the Communication Internship Coordinator.
Duration, Work Hours and Academic Credit for Internships
Internships generally coincide with one of TSU's academic terms, with the internship beginning anytime before or during the COMM 430 class instruction period and ending the last week of classes, for a total duration of 10 to12 weeks during Fall, Spring and Summer terms. Students must work a minimum of ten hours per week, a total of 100 hours. Beyond this, the number of hours per week a student works is dependent on the needs of the employer and the decision of the student.  
The Internship Coordinator will be available for questions regarding your internship, discussion about your learning opportunities, and the evaluation of your experience.
Dr. Clyde Duncan, Jr.
Internship Coordinator
3100 Cleburne
MLK 233
Houston, Texas 77004
Internship Documents
Partnerships